Today I decided to join a Blog Hop! It's a fun way to meet fellow bloggers and find some new fun blogs!!! It's also a great way to get more followers. So, join me and these other fabulous blogs for Following Friday!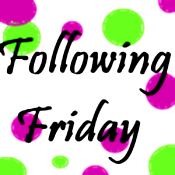 Here is how you can join:
1. Link up your blog URL on Mr Linky.
2. Follow the
Hostesses
( and leave a comment so they can follow you back).
3. Grab the Following Friday button and paste it somewhere on your blog or in a post.
4. Follow as many blogs as you like and when they follow you, follow them back. (leave a comment on their blog so they can follow you back)