Today was warm, the kids had been good while my mom and I did some errands and went to some flea markets, so I decided to treat them to an Icee while we drove. This was Jack's 1st Icee and I should have known not to let him have it all to himself while I was driving. (I took these pictures with my arms above my head and the camera resting on the top of my headrest while sitting at a red light!)
Did you know that stuff stains? I had forgotten that!
He really did drink a lot of it. But Mallory was a little distracting and he kept watching her.
The result wasn't a good one! I definitely learned my lesson. By the time I was able to pull over and get out of the car, he was completely covered in red, sticky, Icee. I didn't take a picture... I was too busy cleaning up the carseat and Jack before it stained him any more than it already had.
Note to self... no more Icee's in the car!!! :-)
My mom and I hit some flea markets this week and here is my fabulous find!!!! I couldn't wait to show you!!! Isn't it just the cutest thing?!?!
This little chair is SO unique and I just love the leopard print on it!! I brought it home, dusted it off, and began rearranging what seemed like my entire house by the time I was finished. One thing led to another thing, which led to another thing, and so on. So this little chair in this little place, led to that table being moved, which led to...
...this being redecorated. Which led to...
...this being redecorated. Which led to...
...this being redecorated. (I especially love this end result!) Which led to...
...this being changed up some. Which ultimately led to...
this new area in my master bedroom!
I just love moving things around... it just makes it all feel brand new!! :-) So, what do you think of my new leopard chair?!?!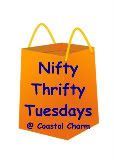 Are you ready to find out the winners of The Pink Paisley giveaway????
CONGRATULATIONS to...
Meghan and Stephanie J.
(Ladies, check your email for a message from me!)
MANY THANKS to all of you who entered and who follow my blog! I have several more giveaways in the works and some exciting things coming, so please check back often!